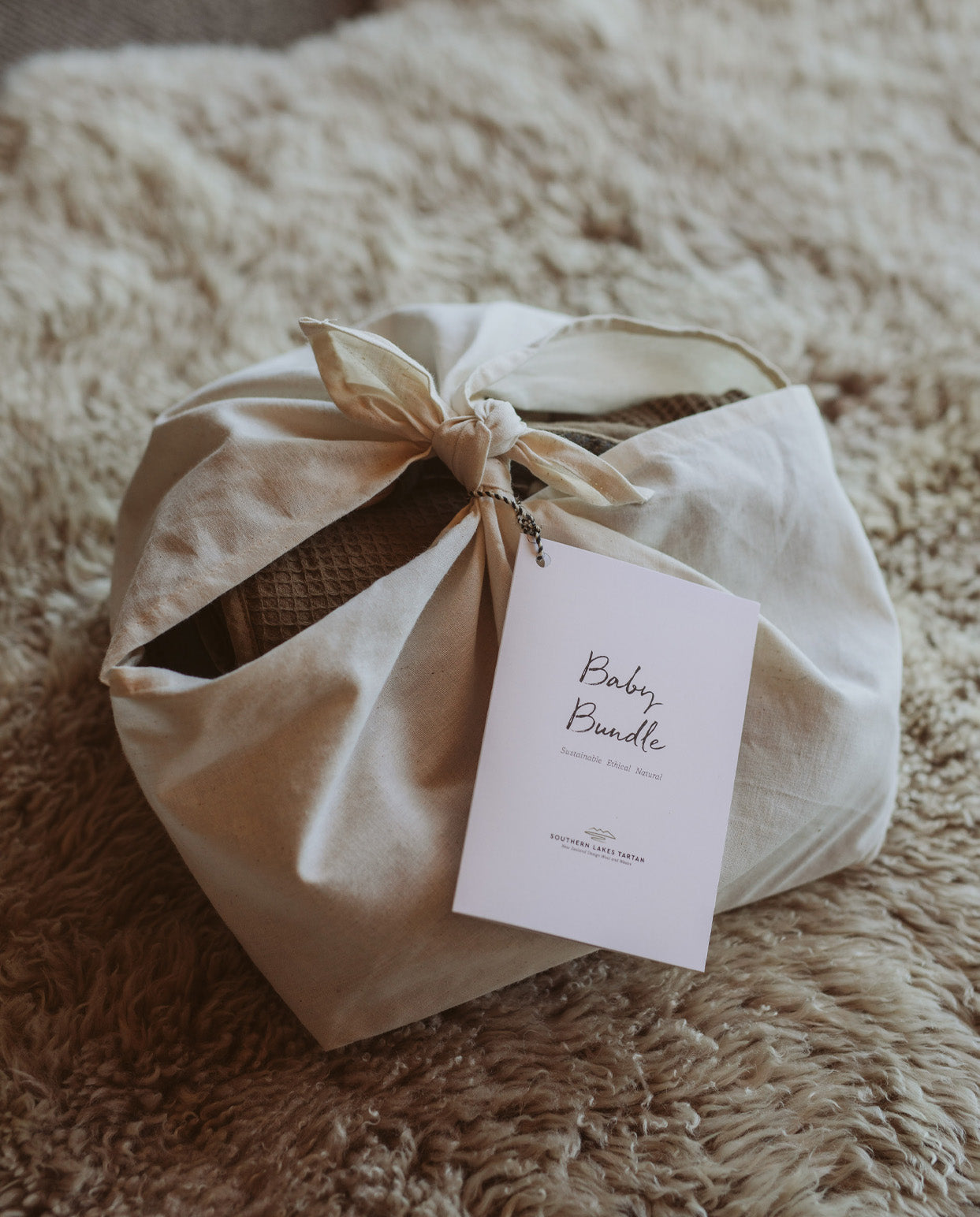 Baby Bundle
$285.00
The Southern Lakes Tartan team are delighted to bring our Baby Bundle to you. 
We know how overwhelming it can be to find natural products to wrap our tamariki in and that's why we have created this special bundle to do just that. You can rest easy knowing that you have made the very best decision for your little ones as every product is safe, natural, and durable. 
We have created both a beautiful and lasting gift and an ethical range for parents of a special baby. Within this range, you find yourself a cosy cot blanket, a beautiful bunny ear teething ring, and a waffle hooded towel, delivered in our stork bag. 
Our baby bundle is sold as a lovely bundle for your precious wee one, not as individual elements
Cosy Cot Blanket

 



Our cot Blanket is made of pure New Zealand lamb's wool and bound with linen to be soft on delicate skin. Wool is natures gift. It keeps us warm when it's cool and cool when it's warm. 
It's non-toxic, breathable, hypoallergenic, soft, biodegradable, and odour resistant! Perfect for your sensitive baby. Ideal for the little one's cot and over your knees while having that night feed. When your baby is all grown up it will make a great rug for them too. Not just a baby's gift but a treasure and touchstone for their life.
100% NZ wool 
100% linen-dyed in NZ 
Woven and crafted in Aotearoa
Care - Dry clean or gentle hand wash. For small spots – sponge with warm water and dry flat. 
Dimensions - 1.580 x 1.100 mm 
Teething Ring 
Our teething ring is perfect for sore gums and little teeth.
Made from smooth natural Beech Wood with Bunny ears of wool, and linen this Ring is entirely safe for your babes to chew on, while the ears are great for little hands learning to grip and explore. 
Eco friendly
100% non-toxic
Naturally antibacterial 
Beechwood ring
100% Wool 
100% Linen (dyed with GOTS certified dyes )
Diameter  70 mm
Care - Untie the ears from the ring, handwash with warm water in wool detergent, roll in towel and squeeze to dry. Wipe wooden ring with a moist warm cloth.
(Please don't leave children under 3 yrs. unattended with rings as a safety precaution)
Waffle Hooded Towel
To complete our baby bundle we have created a waffle hooded towel.
Quick-drying and gentle on baby our towel is made from pure cotton and dyed to match our tartan rug and range in a gender-neutral tussock colour.
100% cotton
Dyed using GOTS certified dye
Dyed and sewn in New Zealand